Weekly Assignment
This week in the forums we finished up our Doorways assignment. The task was to find a way to photograph a doorway that is interesting and gives some sort of feeling about the doorway or tells it's own story. The photographs that we picked this week all had something special about them.
Our winner this week was Cardinal_Color's photograph of the arm reaching out from behind the door. This shot really caught our eye because even though most of the photo is about the door, the way that the arm reaches around seems to create it's own story in your head. You can't help but wonder what is going on behind that door!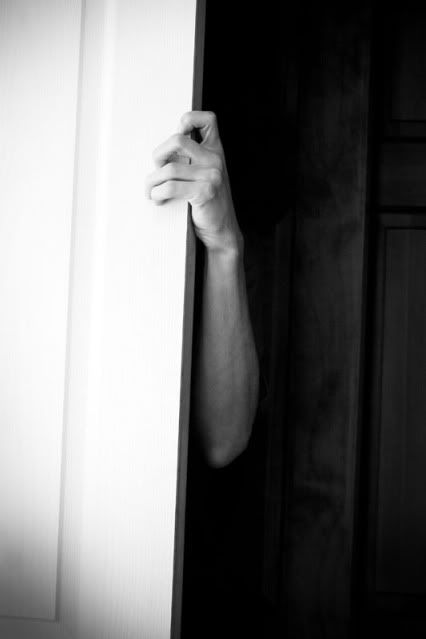 Our first runner up was loft's photograph of a moment shared between the the family dog and the baby. This one captures a really sweet moment and the way the two of them are sitting together really makes for a nice composition.
And last, but not least is phillj's boat shed doorways. This one made wonderful use of the light and that is what caught our eyes. Good lighting can really make or break a photo and this was definitely a case where it made it.
We also started our newest assignment this week, which is Solitude. Showing solitude can be difficult because it really requires you to think about how to convey emotion in your shot. We want you to show us just what solitude means to you. As always, a quick reminder of the rules. First, your photo must have been taken between 20 April – 4 May 2011. Second, your post must include the words "Solitude" and the date that the photo was taken. Finally, your EXIF should be intact, and it's useful if you can include some of the main points such as camera, lens, aperture, shutter speed, ISO, etc. Next weekend many parts of the world will be celebrating Mother's Day, so our upcoming theme is Mothers. We want to celebrate mothers this week, so whether it's a portrait of your own mother, a photo of a mother and child interacting or something that sparks a memory of the things you love about your own mother, we want to see how you can bring this theme to life.
Hot Threads
What is your favourite portrait lens and why?: If you're a portrait photographer or you just enjoy taking pictures of people, which is your favourite lens to use? Do you prefer a zoom or a prime? Come tell us which is your favourite over in the forums.
Auto, why does it have a bad rap?: Sometime it seems like there's a view that if you don't shoot manual, you shouldn't even own a camera. But is auto really that bad? And for that matter, are the semi-automatic modes also that bad? Or is there a reason to use them? Come share your thoughts on using auto over on the forums.
Which camera system and why?: No, this isn't another Canon versus Nikon debate. We all have our reasons for choosing a particular camera though. Whether it's the ergonomics of the camera body, or someone we know has the same brand, or it was a gift, there was probably a reason why you chose the camera you did. Come share your reasons in the forums.
Post from: Digital Photography School – Photography Tips. Check out our resources on Portrait Photography Tips, Travel Photography Tips and Understanding Digital Cameras.
This Week in the Digital Photography School Forums (24-30 Apr '11)